One of the most celebrated religious festivals in the country, The Sinulog Festival 2023 is back after a two year of hiatus. Bigger and better with a theme of One Cebu Island. Jetti Petroleum continues to be recognized in the said festival last January 06 – 15th, as its sponsored picks bagged  back-to-back placements titles in the Sinulog Idol and Sinulog Festival Queen Coronation Night.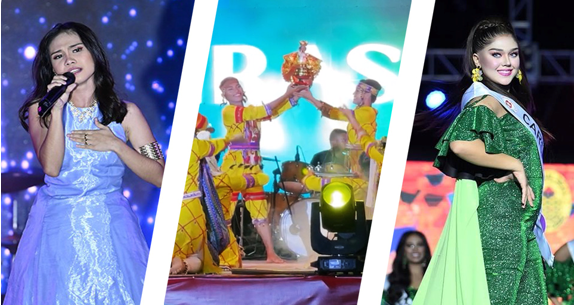 Yet another trophy has been added to Jetti Petroleum Inc.'s collection! IN PHOTOS (L-R): Dee Geralla – Jetti Petroleum's IDOL NG BAYAN Awardee & Second Runner-up in The Sinulog Idol 2023 S14; Sinulog Festival cultural dancers and performers; Angelica Macasero Bengtsson – Jetti Petroleum Inc.'s Lakambini ng Bayan Awardee and Sinulog Festival Queen 2023 – First Runner-up.
Jetti's Idol ng Bayan!
Held January 12, 2023 at Fuente Osmena Circle, Cebu City – Doreen Faye Geralla or also known as 'Dee Geralla' is the Jetti Petroleum, Inc.'s Special Awardee for the Sinulog Idol 2023 – 'IDOL NG BAYAN' Award. This award is given to the candidate who showcases impressive talent showcasing a heart of a champion. The award also puts importance to those candidates who can inspire people to chase and achieve their dreams. Aside from a cash prize she also won Jetti Limited Edition Merch items and a chance to be a Jetti Ambassador. After being awarded as Jetti Petroleum's special awardee, she was called as one of the Top 3 Grand Finalists for the said contest and she was also one of the Top Choices amongst the audience.

Dee is a 19-year-old student from University of Cebu, she's a Jazz, Pop singer and Guitarist from Pinamungajan, Cebu. Her "idol" in the music industry is Christina Aguilera. IN PHOTOS: Awarding of Jetti Petroleum Inc. – IDOL NG BAYAN by Benedict Odina, Trade Marketing & Promotions Officer, Jetti Petroleum, Inc. and Dee Geralla's performance during the grand finals.
On its 14th Season, the Twelve (12) Sinulog Idol Contestants have vied for the title of Sinulog Idol 2023. The Sinulog Idol is the ultimate singing contest in Cebu City. All of its homegrown talents are making waves in the music industry all over the country. Dubbing themselves as the entertainment capital of the country.
JETTIZEN Wins First Runner-Up in Sinulog Festival Queen 2023!
It was indeed a great Sinulog Festival for Jetti Petroleum. The following day, the Miss Jetti Petroleum Inc.'s Awardee won First Runner-up in the Sinulog Festival Queen 2023 Grand Coronation Night held at Cebu City Sports Center.
Angelica Macasero Bengtsson is the representative from the Heritage City of the South – CARCAR CITY in the Sinulog Festival Queen 2023. She bagged the Miss Jetti Petroleum Inc. – Lakambini ng Bayan Award and other four (4) Major Awards such as Miss Photogenic, Best in Instrumentation, Best Solo Performer, and Best in Group Presentation.

IN PHOTOS: Angelica Macasero Bengtsson during the Grand Coronation Night Opening Production, Special Awards segment and Festival Queen presentation …
During the Pre-judging Night, Angelica bested 10 candidates on her answer to the question – "Given the chance to be Jetti Petroleum's Ambassador how can you promote and boost its advocacy as the 'Gasolina ng Bayan'?"
She emphasizes that the gasoline brand like Jetti Petroleum Inc. plays a big role in the Philippine Tourism:
Angelica Bengtsson: "I am able to show you that with the gasoline we are able to explore the country and able to explore Cebu and that for me is very important. This island has so many different cultures and tourist attractions, for me the gasoline (Jetti) plays a big part for my roots … without the gasoline like Jetti Petroleum, I am not gonna able to learn about Cebu and the culture of it, thank you."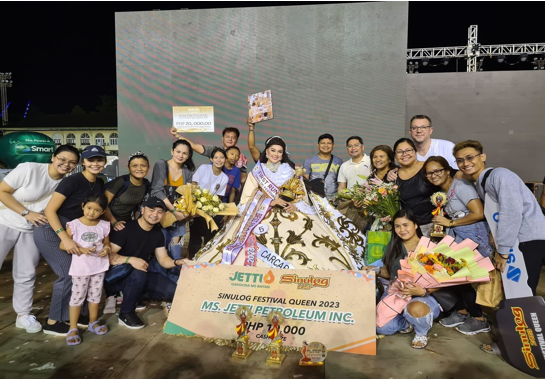 Angelica Macasero Bengtsson and her supporters after the Coronation Night (Photo courtesy: Angelica Bengtsson)
As the Miss Jetti Petroleum Inc. – Lakambini ng Bayan Awardee, she won a Sash, Cash Prize worth Ten (10) Thousand Pesos, Limited Edition Jetti Merchandising items and Brand Ambassadorship opportunities to all Jetti Stations in Cebu. She is a 20-year-old Economics Major, an Athlete representing the Philippine Team in National Women's Floorball Competition and loves to ride motorcycles.
Jetti rolled-out Special Promo for Sinulog Week!

Jettizen Awardees are not just only the winners but also the customers of Jetti in Cebu as they have rolled-out a Special Promo of P2.00/liter discount to all vehicles from January 06-15, 2023.
Jetti Basak, Guadalupe and Punta Princesa are the participating stations of this promo.