Jetti Petroleum Inc., a locally owned independent oil company known for its commitment to delivering affordable petroleum products to Filipinos, recently formalized its partnership with Cebuana Lhuillier, the country's leading micro financial services company.
Through the partnership, Jetti is offering exclusive discounts to members of Cebuana Lhuillier's 24k Rewards Program. 24k members can now enjoy an unbeatable fuel discount of Php 2.00 per liter on gas and diesel at all Jetti Petroleum stations nationwide. With this exciting partnership, Jetti and Cebuana Lhuillier aim to alleviate the daily burdens of Filipino consumers and help them achieve a better quality of life.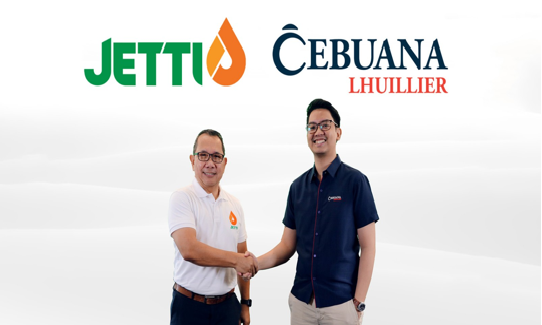 Jetti Petroleum and Cebuana Lhuillier formalize the partnership. In the photo are (from L to R) Leo Bellas, President together with Arwen Fabro, Head of 24k – Customer Engagement.
"I am thrilled to announce our recent partnership with Cebuana Lhuillier, a testament to our shared commitment to serving the Filipino people. Through this collaboration, we are delighted to offer a remarkable fuel discount exclusive to members of Cebuana Lhuillier's esteemed 24k Rewards Program. Together, Jetti and Cebuana Lhuillier are determined to create a positive impact on the lives of Filipinos, fostering a brighter and more prosperous future for all." Jetti President Leo Bellas said.
"This collaboration marks a significant milestone for both 24k and Jetti, driven by our shared commitment to brand loyalty and customer satisfaction. By continuously delighting our customers and adapting to their evolving needs, Cebuana Lhuillier and Jetti are poised to make a positive impact, delivering exceptional experiences and empowering every Filipino." Cebuana Lhuillier president & CEO Jean Henri Lhuillier said.
Cebuana Lhuillier remains the industry leader in the Philippines with more than 3,000 branches nationwide. Known for its innovative products and services including pawn, money transfer, loans, bank services, and insurance, Cebuana Lhuillier remains committed to pushing for its mission of bringing financial inclusion to Filipinos anytime, anywhere.
Jetti Petroleum Inc. is a 100% Filipino -owned independent oil company, committed to providing affordable, accessible, top-quality fuel, powering industries, and empowering communities. Jetti aids the average Filipino in managing the share of their wallet by providing cheaper fuel alternatives with its discount program. Staying true to its brand promise—Jetti—Ang Gasolina ng Bayan!