Becoming a great retail bank is a journey and not a destination.
UnionBank stood-out on the global stage as the lone Filipino bank gold sponsor bannering the "Tech Up Pilipinas" advocacy that is the cornerstone of its digital strategy.
UnionBank has been part of the annual festival since 2018, working the room with the biggest banks in the region. This year, more than 60,000 participants, more than 850 speakers, and more than 500 exhibitors attended the event, a testament to its status as the "world's most impactful fintech event."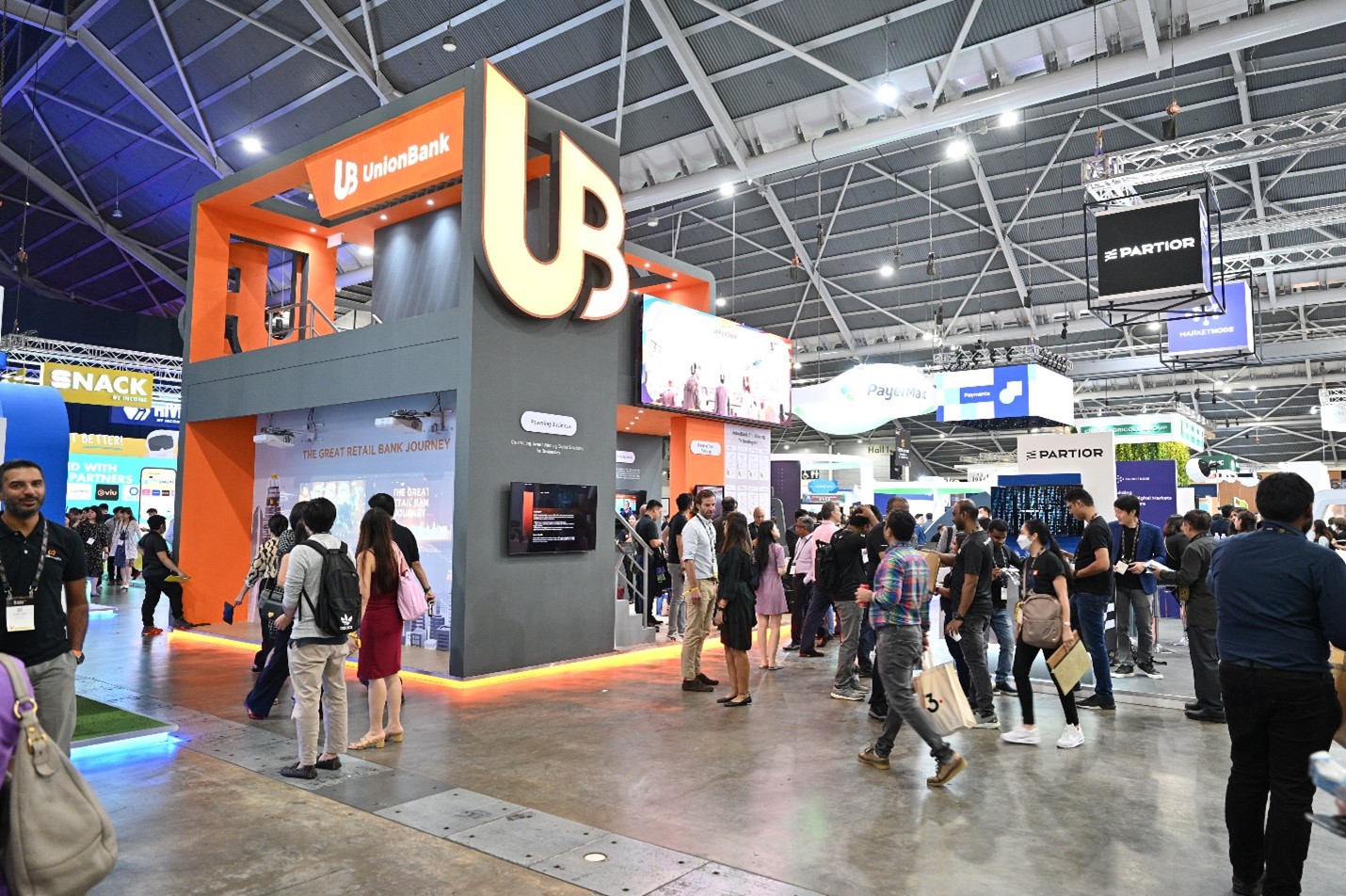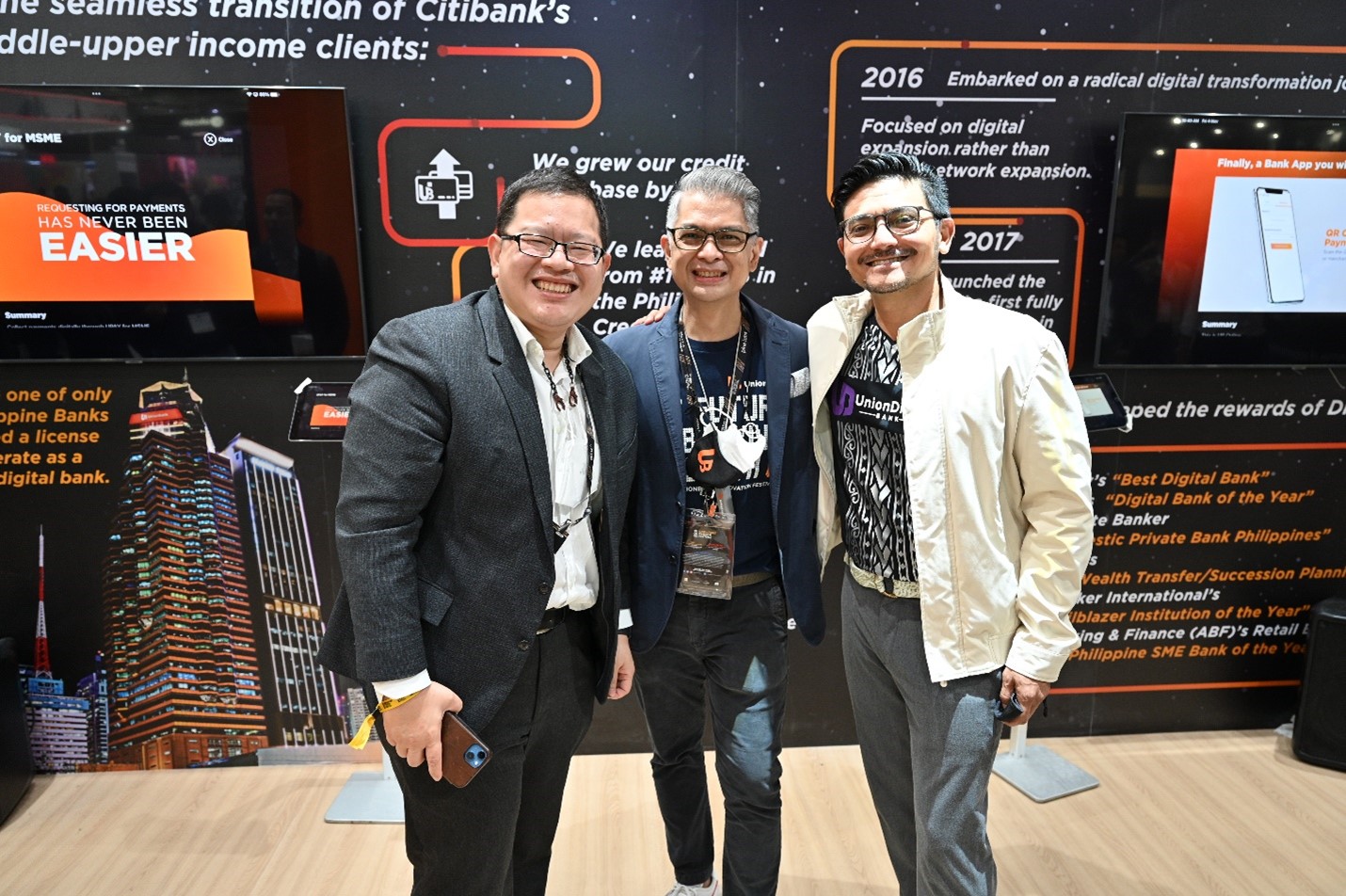 SEC Commissioner Kelvin Lester K. Lee (left) with UnionBank Chief Marketing Officer Albert Cuadrante, and UnionDigital PCEO Arvie De Vera
The UnionBank delegation, headed by Chairman Erramon I. Aboitiz and President and CEO Edwin R. Bautista, showcased key business units that are the pillars of its digital journey through a two-story exhibit booth at the priority sponsors area of the expo.
Trailblazing technologies developed by UnionBank for blockchain, data analytics and Artificial Intelligence, were featured on the booth's Patent Wall, while the Bank's digital journey was prominently displayed at the booth's central area. Noteworthy was the video showing UnionBank's game-changing acquisition of Citi's 'crown jewel'. The multiple screens on the booth highlighted how UnionBank's technological innovations touched clients while top-level UnionBankers were on hand to tell the deeper stories behind these.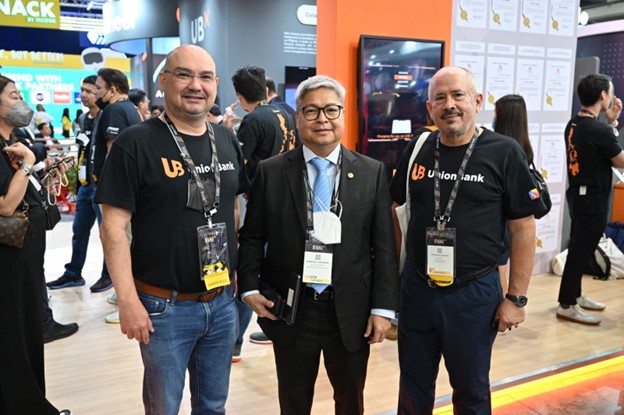 From Left – UnionBank Chief Cross-Sell Officer Anton Corro, BSP Deputy Governor Mamerto Tangonan and UnionBank Chairman Erramon I. Aboitiz
Aside from engaging with clients, entrepreneurs, investors, government, financial services, and technology leaders, UnionBank executives led discussion panels and speaking sessions in the various stages of the 2022 SFF. Corporate clients were also hosted to listen in to globally and locally relevant presentations affecting the financial industry at the festival.
Dignitaries from the Philippine government who visited the UnionBank booth include Bangko Sentral ng Pilipinas (BSP) officials Deputy Governor Mamerto Tangonan, Deputy Governor Chuchi Fonacier, Deputy Governor Bernadette Romulo-Puyat, and Director Mhel Plabasan; Securities and Exchange Commission (SEC) Commissioner Kelvin Lester K. Lee; and Department of Budget and Management Undersecretary Maria Francesca Montes-Del Rosario.
Union Bank of the Philippines (UnionBank) has always been among the first to embrace client-centric technological innovations, as a result it has consistently been recognized as of one of Asia's digital trailblazers, ranking among the country's top universal banks in terms of profitability and efficiency. It has garnered a record-breaking number of awards and recognition, such as the Most Recommended Retail Bank in Asia Pacific by BankQuality.com; 5-time Digital Bank of the Year by The Asset Triple A; Asia Pacific's Digital Trailblazer by IDC Asia Pacific, and the Top 1 of Most Helpful Banks in the Philippines during COVID-19 by BankQuality.com.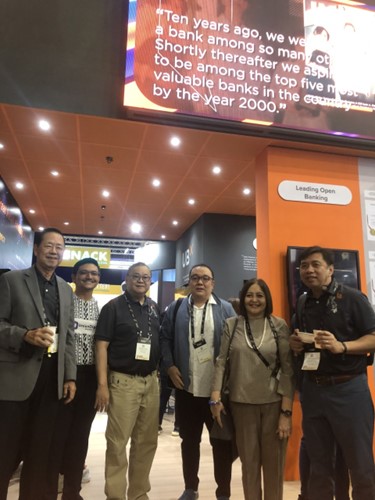 Gracing the UnionBank booth are BSP Deputy Governor Chuchi Fonacier and Director Mhel Plabasan (2nd and 3rd from right) welcomed by UnionBank President and CEO Edwin Bautista (3rd from left) together with (from left) Board Director Roberto Manabat, UnionDigital President and CEO Arvie De Vera, and UnionBank CTOO/CTO Henry Aguda.
With what can almost be anticipated as an annual endeavor, UnionBank's participation in the Singapore FinTech Festival is a testament to its promise to power the future of banking by "Teching Up Pilipinas" to best serve the growing needs of Filipinos everywhere, fulfilling its vision of building a Bank of enduring greatness while pioneering innovations for a better world.
UnionBank's "Tech'd up" highlights at SFF2022
Day 1
UnionDigital Co-Founder, President and CEO Arvie de Vera got the show on the road, joining as a panelist for the session titled "Wake Up With the Leaders," which focused on building a resilient business model in light of the current macro climate.
UnionBank SVP and Head of Fintech Business Group, Open Finance and Digital Services Center of Excellence Erika Dizon-Go gave a presentation on Digital Finance before joining the session "The Antifragile Digital Economy of ASEAN – The Digital Pilipinas Case Study."
Capping off the Bank's Day 1 talks was the launch of the Philippine Open Finance Foundation led by Jaime Garchitorena, UBX Managing Director for Open Finance. The institution aims to make the adoption of open finance as a technology that empowers Filipino consumers with the right set of financial tools and solutions for their needs. The foundation will bring together relevant stakeholders, including other financial institutions, government agencies, non-government organizations, civic groups, and the academe to come up with meaningful initiatives that will support the development of Open Finance in the Philippines.
Day 2
UnionBank SVP, SME and Micropreneurs Segment Head Jaypee Soliman gave a presentation on Embedded Banking and Alternative Credit Scoring
UnionBank SVP and Head of Blockchain Center of Excellence and API Business Group Cathy Casas sat down for an interview with METACO, and IBM focused on "Leveraging Digital Assets to Build New Business Models for Financial Institutions."
UnionBank's Chief Data and AI Officer Dr. David Hardoon joined a roundtable discussion entitled "Open Finance and Beyond," capping off the Bank's Day 2 talks.
Day 3
Hardoon returned to join the roundtable discussion titled "Distributed Data Ecosystems in a Web3 World – Heterodox Approaches to Data Portability," followed by De Vera who joined the roundtable discussion titled "Asia Digital Banking CEO Strategic Roundtable."