Vibal Group launched its newest lineup of textbooks in response to the Department of Education's (DepEd) release of the MATATAG Curriculum. The launch was held during the 2023 Catholic Educational Association of the Philippines National Convention last October 17–20 at the Cebu Waterfront Hotel.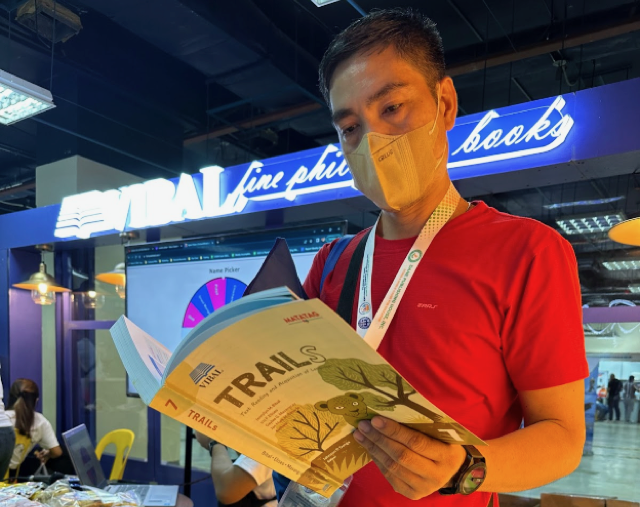 A CEAP Convention delegate browses TRAILs (Text Reading and Acquisition of Languages) , Vibal's new textbook for English aligned to the MATATAG Curriculum.
"Vibal has always been in support of DepEd's educational programs by coming up with well-written, well-produced textbooks aligned to the curriculum," said Vibal Group President and CEO Kristine E. Mandigma. "We gathered excellent educators, writers, and editors for these MATATAG books, and we hope that these contribute to the present administration's goals – and our mission – of making Filipinos more intelligent through books and technology."
According to DepEd, the MATATAG Curriculum aims to decongest the current K to 12 Curriculum by focusing on foundational skills like literacy, numeracy, and socio-emotional skills. The revised curriculum follows the current administration's educational agenda of "Bansang Makabata, Batang Makabansa." The goal is to produce "competent, job-ready, active, responsible and patriotic citizens' through its programs and reforms. With this in mind, VibalGroup's latest line of textbooks are curriculum-compliant, pedagogically sound, and enriched with text, activities, and learning materials.

Vibal's new textbook series, aligned with DepEd's MATATAG Curriculum. These titles focus on areas of study such as English, Filipino, Mathematics, Science, and more.
Vibal's new textbook series, aligned with DepEd's MATATAG Curriculum. These titles focus on areas of study such as English, Filipino, Mathematics, Science, and more.
The English series TRAILs (Text Reading and Acquisition of Languages) explores the MATATAG English curriculum's three organizing domains—literacy, language, and text. This series aims to improve the learner's basic, critical and applied literacy through reading, analyzing, and creating various text types, including literary, academic, and informational texts. TRAILs ultimately promises to inspire a lifelong love of reading and learning.

The series Tálas: Túngo sa Mapanuri at Malikhaing Pag-iisip (Filipino) aims to produce learners who are equipped with literacy skills, can confidently use the Filipino language in different social contexts, and can understand, critically evaluate, and produce various types of texts. At the same time, it also develops 21st-century skills among the learners to get them ready to become responsible citizens who value their own culture, language, and literature and are ready to take on the challenges of becoming global citizens.
The Pamilya, Paaralan, Pamayanan (Values Education) series responds to the challenge of Republic Act No. 1147 or the "GMRC and Values Education Act" in bringing back GMRC and Values Education as a core subject in the basic education curriculum. The series aims to mold Filipino students who will become responsible persons who can decide with accountability, who love God, their family, and others, who show deep concern for the country, nature, and the environment, and who act with the common good in mind.
The Linangan Tungo sa Maginhawang Lipunan (Araling Panlipunan) series is aligned with the objective of the new MATATAG Curriculum to form critical thinkers and students who are accountable, reflective, nature lovers, nationalistic, and humane, who know their identity and dearly love their country and the world. Through the series, the students will have a dynamic connection with society, which includes the national and global communities they belong to.
Science for Futures Thinking (Science) helps learners develop scientific literacy and understand science concepts through the latest technology. Anchored on the idea of future thinking, this series uses creative and exploratory problem-solving. It highlights the scientific method to apply both divergent and convergent thinking in solving problems and arriving at answers.
Real-World Math (Mathematics) addresses this by using both inductive and mastery learning approaches to study the three content domains: numbers and algebra, measurement and geometry, and data and probability. More than working on drills and standard math problems, this series highlights how mathematical concepts can be applied to real-world situations.
Vibal Group's latest series aligned with the MATATAG curriculum also includes learning materials for three more learning areas: Technology and Livelihood Education, Makabansa, and Music and Arts and PE and Health.
Schools may request for evaluation copies by sending an email to customercare@vibalgroup.com.